Sparkle & Shine | Bathroom Edition

TOP RATED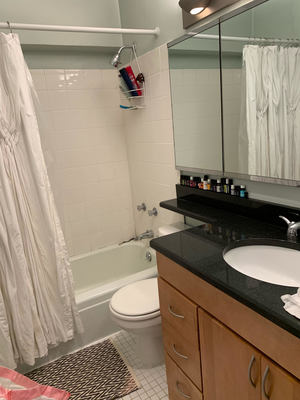 ABOUT THIS EVENT
Event Category
Education
Event Overview
"We're all in this together" cleaning session that results in feeling good about yourself and a sparkle & shine bathroom.
You'll need the internet, Zoom, and a moveable device with a camera (phone, laptop, tablet). You are encouraged to be on camera but not required. You should be able to attend live; this is not a replay offering.
So we're clear about the FUN to be had: you will actually be cleaning. Alongside Saya and whomever else joins. This Sparkle & Shine edition is the bathroom. The one space we'll be doing. No need to worry about the rest of your home. Just the bathroom.
Like having a workout buddy or a writing buddy, how 'bout a cleaning buddy? You still gotta do the work but with a buddy, it feels less like work. Fun, even. You keep going when you're ready to give up. You learn how to be more efficient and thorough. You find surprise inspiration and motivation. You push yourself. You finish what you start. And at the end, you group celebrate your victories. Saya owns a residential cleaning service, wrote a cleaning e-book, and has been cleaning for fun her whole adult life.
The bulk of our time together will be actually cleaning. Step by step, we'll go top to bottom, wall to wall, with Saya cleaning alongside you and explaining why and how. We'll start with one small task and upon completion, move onto the next small task, and upon completion…You get the idea. And then all of a sudden, you're done and you get to stand back and admire your sparkle & shine!
Testimonials
"While I've sheltered-in-place, Saturdays have been dedicated to Saya Hillman's virtual cleaning sessions! It is SO nice to actually be able to see 👀 everything in the fridge and freezer, not need to shuffle things around every time I need to grab something, and not have random things lurking in the back that should have been tossed out ages ago! 🤮"
"I LOVED the cleaning class. It's exactly what I needed, not just in quarantine times, but before that. I avoided cleaning because I didn't really know what to do and when I did clean I let it take over my day. I appreciated doing this alongside other people - so fun and vulnerable. Being on camera helped me say with it vs passively consuming a webinar. It was a great investment in myself, learning a new skill and having a shiny result at the end. This will save me a ton of money in cleaning service fees in the future too. I'm looking forward to taking more of these classes."
"I learned so much from you today.  It was so great to virtually clean with other people.  You shared so many tips that were new to me.  If anyone is looking for a way to feel a sense of accomplishment during Shelter In Place (it any time), they MUST participate in your virtual cleaning session! Saya you made cleaning suck less. Mission accomplished."
"Today was amazing. I was terrified to jump in, but I knew with you I'd be in a judgement-free zone. I even did a bonus and organized one of the drawers. It never looked so good! THANK YOU, Saya! I had no idea this would give me as much of a boost as it did. Seeing one clean space in my house helped me feel energized the rest of the day."
What to Bring
Basic cleaning supplies from the list you'll receive from Saya (they'll all be items that you hopefully already have). A video device you can bring to the area being cleaned (laptop, tablet, phone) and be able to stand up
Minimum age
1 years or older
Cancellation Policy
Location
Virtual
There are currently no upcoming dates scheduled for this Dabble. Log in to an account message the host or add to your bucket list to be automatically notified when new dates are posted.
MORE ABOUT YOUR HOST

TOP RATED
A TEDx speaker and one of Brazen Careerist' s Top Twenty Young Professionals to Watch, Saya has discovered how to turn her love of creating community, challenging herself and those around her, and enjoying life to its fullest into her "job." Via her company Mac & Cheese Productions℠, she helps others (and herself) live a Life of Yes℠. Saya is from Evanston, went to Boston College, and resides in Chicago.