Acrylic Pour | Open Studio
5 Have Dabbled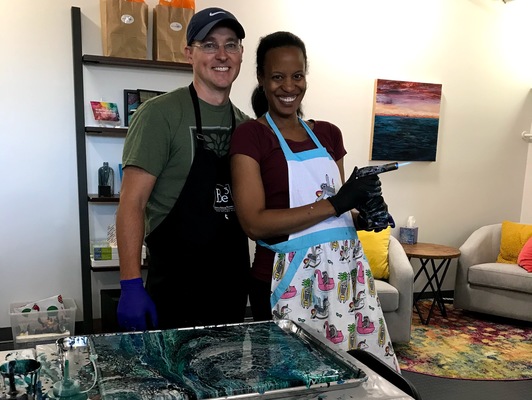 ABOUT THIS EVENT
Event Category
Arts & DIY
Event Overview
Create a gorgeous 8" x 10" acrylic pour painting. Then if you like, stay longer and choose your own adventure! Make holiday ornaments and gifts, pour on canvases of different sizes, make jewelry and more! 
What's the vibe? We provide a relaxed, zero pressure environment so you can create at your own pace and budget. Workspaces are flexible so you can create solo or with a buddy.  You can pop in to create for an hour or stay and play for longer.  
Who's invited? Open studio is for newbies and experienced pourers 18+.
What can I make? A variety of pour painting projects are available! Your registration includes all materials and instruction to create one 8" x 10" painting. You are welcome to stay longer and create more projects.  You can pour on canvases in a variety of sizes, make poured art jewelry, pour on glass or ceramics. Additional projects are paid for when you check out at the studio. Average project prices range from $5-$30.
Venue Notes: Entrance is on 12th Street between Newport and Niagara.  This location has stairs-please email us if you'd prefer we come to you!
What's Provided
All materials are provided including aprons and gloves.
Cancellation Policy
There are currently no upcoming dates scheduled for this Dabble. Log in to an account message the host or add to your bucket list to be automatically notified when new dates are posted.
MORE ABOUT YOUR HOST
We think fostering creativity is a REALLY BIG DEAL. Whether we're seasoned professional artists or complete art newbies, we all need a way to hit the reset button, reignite our creativity, and reconnect to our true selves. Our reset button came in the form of Acrylic Pour Painting and we'd love to share this can't-do-it-wrong technique with you too!