ABOUT THIS EVENT
Event Category
Arts & DIY
Event Overview
Just in time for festival and wedding season, learn to make your own flower crown! On top of looking beautiful, your crown will communicate a special meaning using the language of flowers, making them perfect gifts (especially for bridesmaids)!

Everyone will leave with a flower crown and working knowledge of how to make more on their own. Everyone will leave understanding how to decode and create messages using the lost language of flowers.

The small teacher to student ratio will ensure that each student gets the attention he/she needs.

Light refreshments will be provided. Students welcome to BYOB. Enjoy some friendly, light revelry as we engage in a fun new way to connect and create beautiful things with the language of flowers.
What to Bring
If there's a particular flower students want to use, they're welcome to bring it. Having a smart phone with WiFi is helpful. Students are also welcome to BYOB.
What's Provided
I'll provide flowers, all crown-making supplies and light refreshments.
Cancellation Policy
There are currently no upcoming dates scheduled for this Dabble. Log in to an account message the host or add to your bucket list to be automatically notified when new dates are posted.
MORE ABOUT YOUR HOST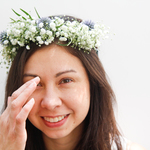 Miquila is the Founder of The Bloom Equation, a budding company that got funded at 144% this past May via Kickstarter. The Bloom Equation creates fun and connection using the lost language of flowers in a variety of mediums that include Flower Message in a Bottle Necklaces, Bouquets and Crowns. It is also home to the most comprehensive language of flowers database in existence: bloomequation.com/flowers.
Students will enjoy working with Miquila, who taught middle-school aged through adult students for a decade before founding The Bloom Equation. Although very new, The Bloom Equation has already done bridal crowns or flowers for several weddings, which has given Miquila a unique understanding of flower fashion in California.