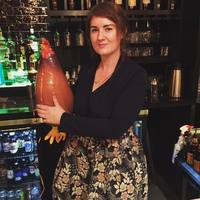 Hello Dabbler! I'm originally from the eastern shore of Maryland, which explains my passion for seafood. My talents and creative interests are various and constantly expanding. I enjoy cooking, creating cocktails, screen printing, painting, sewing and more! I have been a teacher for Dabble since 2015 and every class has been amazing! Hope to see you soon!
Charlesetta C.

Authentic Maryland Crab Cakes!

Jenny Dey was very organized, personable and knowledgeable. Everything was clean and set-up for the class, including our own apron and gloves. She did a demonstration and then ewe each formed and cooked our own crab cake. She was answering all of our questions regarding cooking, tips, to do's, her background, etc.
I would definitely take another class from her.
Charli Clayborne

Neha S.

Authentic Maryland Crab Cakes!

Jenny was an outstanding teacher and this class was amazing!!!
She went out of her way to make sure every detail was in order to help make sure this was a special surprise for my boyfriend. In addition to being a great teacher, she was incredibly fun to hang out with and very friendly and accommodating. The crab cakes were awesome! She even gave us the recipe on a cute hand-written card.
I will definitely be back for another of her classes! This was an amazing deal for a fantastic class!

Christina S.

Authentic Maryland Crab Cakes!

During the class Jenny shared her stories about growing up near Annapolis, Maryland and her knowledge of the blue crab culture and her family's homestyle crab cake recipe. I learned a great deal about techniques in this class such as using butter in the preparation, how to slice the lemon, creating a good spicy sauce to dress the crab cake, the essentials of purchasing quality crab meat, the difference between crab meats from different places in the world, using saltine crackers which is the Maryland Style of filling instead of bread crumbs and how to prepare the saltines using a rolling pin, how many eggs to use, how much time to cook the cakes so they are moist. Jenny is a very open and outgoing person and an excellent teacher. I like the fact that she had all of the ingredients laid out ahead of time and places for the students to sit with a note card and a pen to take notes as we went along. She also provided the recipe on a notecard for each student plus provided water and fresh guacamole and chips as well during the class. I live in the Loop in Chicago and took the Brown Line..it was an easy one block walk from the train station to her place. Thanks Jenny-I have signed up for future classes.