ABOUT THIS EVENT
Event Category
Business & Technology
Event Overview
Ever wondered how to turn a photo of your Labrador into a Labradoodle? Or how to enhance a black-and-white wedding photo with a colorful flower bouquet?

If you're familiar with basic Photoshop tools or have tackled Photoshop 101: Crop!, this class will sharpen your Photoshop skills and unlock the program's creative capabilities.

Beyond the Basics will explore Photoshop techniques for manipulating layers, creating masks and color-correcting images. With a basic understanding of masking tools, Dabblers will merge images and adjust hues with ease. A few simple tricks will allow students to improve photos in varied settings, from whitening teeth in a portrait to replacing Cleveland's skyline with Chicago's.

The last 20-30 minutes of class will be open for questions and one-on-one instruction.
Minimum age
All ages welcome
Cancellation Policy
Location
There are currently no upcoming dates scheduled for this Dabble. Log in to an account message the host or add to your bucket list to be automatically notified when new dates are posted.
MORE ABOUT YOUR HOST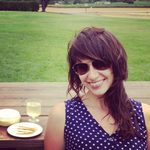 TOP RATED
A Wisconsinite and alumni of University of Wisconsin-Madison, Katie holds a BFA in graphic design. Designer, educator and businesswoman, Katie is a self-proclaimed dabbler. She currently teaches a course at Columbia College Chicago exploring three staples of the Adobe Creative Suite: Photoshop, Illustrator and InDesign. Katie has drawn upon graphic design experience to promote and brand her new jewelry line.