Rooftop Macrame Plant Hanger Workshop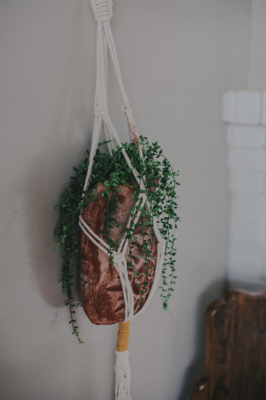 ABOUT THIS EVENT
Event Category
Arts & DIY
Event Overview
Join us for a special plant hanger workshop at the Rooftop at Backyard on Blake.
This workshop is geared towards Beginners and those that want to practice a little more on basic knots in macrame.
In this class, Ivonne will demonstrate various knotting techniques and get you started on your plant hanger.
We provide all the materials you need to complete your macrame plant hanger, grab your girls and treat yourselves to a fun time on the rooftop!
Light refreshments will be served.
Each person will receive one bundle of natural rope to use and one accenting color.  If you have a terra cotta pot that you want to specifically use for the plant hanger, feel free to bring it. Otherwise, we will make the plant hanger pictured above
What's Provided
Each student receives their own bundle of natural colored ropeColored yarn Rack will be providedS hook wil be provided
What You Can Expect
Learn Basic Macrame Knots
Have a fun time with other creatives
Cancellation Policy
There are currently no dates scheduled for this listing. Add to your bucket list to be notified of future dates or message the host to request a new date or private event.
MORE ABOUT YOUR HOST
Hey!
I am the maker and designer behind Montaño: Hand- Crafted Crochet.
After dropping off my children at School and after two cups of coffee, I spend every moment I can crocheting, teaching classes, connecting with other makers that I can, and visiting all the local yarn stores I can go to!
I have been crocheting for 9 years now, and it all began in a small military base in Italy. Through this craft, art, and therapeutic process, I have learned how to better cope with my PTSD (from my military service during my deployment).
I share this life with my husband of 9 years, our two children and our fur child Summer (2 year old dog).
Montaño: Hand - Crafted Crochet was born in 2016 out of my desire to share my craft and build a community with like minded makers. Some of the deepest conversations I have had, revolve around yarn and friends.
As always, have a beautiful, motivating day!
xo
Ivonne