ABOUT THIS EVENT
Event Category
Business & Technology
Event Overview
There are many tidbits of wisdom to remember whilst in pursuit of a new career.
Your CV should be condensed to one page.
Closed toed shoes are the most acceptable.
And most notably: It's often not the person who's best at the job who gets the job -- it's the person who is best at getting the job who gets it.

The biggest mistake you can make on a job interview is to not be fully prepared. Understand that interviewing is a skill, and as with all skills, preparation and practice are necessary. Preparation, poise and a little help from good timing can transform you into the stand-out applicant of hundreds vying for the same job.

This Dabble class, suited for job seekers in all stages of the career transition process, is an interactive workshop designed to help you address the following interview-related topics:

-Accurately predicting what will be asked
-Making a confident, professional impression
-Understanding how your body language influences the decision making process
-Building rapport quickly and easily
-Controlling the interview so you are able to communicate the messages you want to get across
-Answering those difficult questions
-Becoming the best version of yourself during the interview and
-Overcoming fears.

Walk away recharged to take on the interviewing process, and with a new-found sense of accomplishment about your skill set and ability to sell. And remember ... Don't be second best. Only one person gets the job.
Minimum age
All ages welcome
Cancellation Policy
Location
There are currently no upcoming dates scheduled for this Dabble. Log in to an account message the host or add to your bucket list to be automatically notified when new dates are posted.
MORE ABOUT YOUR HOST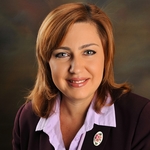 TOP RATED
Natalya Ostrovskaya
Natalya Ostrovskaya holds her Masters in Information Systems Project Management from Depaul University, is PMP certified from PMI since 2002, and has over 15 years of information systems and project management experience in 500 Fortune companies. Her real passion, however, is teaching and helping people to achieve their best potentials. She has been teaching various project management courses during the course of the last 3 years, including being an instructor at Forte Knowledge since 2011. Natalya has dedicated her life to personnel development, psychology and helping people transition through career changes and improve their current careers.