ABOUT THIS EVENT
Event Category
Food & Drink
Event Overview
Visit Seafood City and learn about the culture and food from the Philippine Islands...from street food to special holiday dishes...I will share family traditions and how our food is influenced by other countries. Enjoy a vast array of delicious Filipino dishes!
Cancellation Policy
There are currently no dates scheduled for this listing. Add to your bucket list to be notified of future dates or message the host to request a new date or private event.
MORE ABOUT YOUR HOST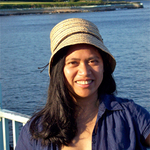 Agnes Policarpio is a foodie extraordinare! Her passion for travel and food paved the way to Travel Blend – a brew of handcrafted tours. Agnes and her team also offers an alternative to those who can't make the long journey by bringing their experience to you with local events/classes. In addition, Agnes' design background adds that extra creative element to every tour, event or class!