ABOUT THIS EVENT
Event Category
Online Classes
Event Overview
Learn, step-by-step, how to get out of credit card debt--figure out how much you owe, what interest rates you are paying, how to transfer your balances and how to reduce your payments. Finally, make a plan to pay down your cards and live without carrying a balance! Feel overwhelmed by multiple accounts? Thrifty Girl can help with her no-nonsense approach to organizing your finances and living debt-free.
In this 1.5-hour class, you will work on evaluating your credit card debt, setting goals and making a plan for success. This class is being offered at a discounted price online because the instructor can not provide her workbook, "Thriftygirl Kicks Your Financial Butt". The book may be available through Amazon, but it is not needed for the class.
What's Provided
The instructor will provide worksheets via email.
Please Note
This experience has a minimum of 2 students required to go forward. You'll be notified if it is below minimum 7 days in advance. If the minimum is not met 24 hours before the event, you'll have the option to pay the difference for a private event amount, transfer to another date or Dabble experience, or receive a refund.
Cancellation Policy
Location
EVENT DETAILS
Date & Time
Location
Zoom! Online Meeting Platform
Price
$15 per Ticket
BUY TICKETS
* Registration closes at the end of event
MORE ABOUT YOUR HOST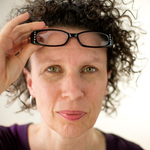 TOP RATED
Organizing your finances shouldn't be painful! I used to be a starving artist. Then, I figured out how to use my creativity to manage my finances and design an alternative lifestyle. It was a game changer. I worked hard, saved money, bought property, sold it, hatched plans, made lots of lists, etc. Then I wrote a book about it: "Thrifty Girl Kicks Your Financial Butt"
Today, I'm a digital nomad. I don't have a permanent home. I work part time and travel the globe in search of sunny weather, inspirational places and meaningful moments. Read all about my adventures at https://freerangechickblog.wordpress.com. I also write a personal finance blog at https://thriftygirladventures.wordpress.com. I enjoy sharing my story and insights with anyone who's curious.