ABOUT THIS EVENT
Event Category
Food & Drink
Event Overview
The bartender just asked what "type" of beer you like, but you have a confession: you don't actually know what all those words on the label mean. You just think that Morning Wood, Arrogant Bastard, and Kamakazi Squirrel are kind of cool names. What's the difference between ale and lager, anyway? Why do Brits drink their beer warm--shouldn't be icy cold? Wait, Belgian beer is supposed to taste like bananas? And, scandal: Is it true that beer pairs better with cheese than wine?

In this class, dabblers will critically taste eight benchmark types of beer like cicerones do and pair them with food. We'll cover the history of beer styles around the world and demystify all the gobbidlygook about classifying them for the most important reason of all: finding what we like to drink.

Tiamat House is a bed and breakfast in a standard apartment building. There are no signs; think of it like finding a speakeasy. Buzz 4E, and if the super asks who you are looking for, ask for us by name: TC and Jeffrey.

Please notify us of any food allergies or restrictions in advance and we will do our best to accommodate!
What to Bring
pen and notebook, ID
Minimum age
All ages welcome
What's Provided
beer, pretzels, cheese, nuts, other light bar snacks
Cancellation Policy
Location
There are currently no upcoming dates scheduled for this Dabble. Log in to an account message the host or add to your bucket list to be automatically notified when new dates are posted.
MORE ABOUT YOUR HOST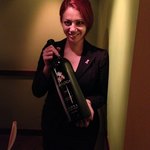 TOP RATED
TC Safavi is a CMS certified sommelier and top-rated teacher of the Tasting Like A Pro series on dabble. There is so much more to beer than you've previously thought, and she'd love to share it with you. She has worked all around the foodie trenches of Chicago and loves unlocking the mysterious and tipsy world of booze for people.
EXPERIENCE REVIEWS
Ken S.

Reviewed on 05/17/14

Learned a l lot about different types of beers, and my tastes in beers. Am looking forward to the Belgian beer class

Learned a l lot about different types of beers, and my tastes in beers. Am looking forward to the Belgian beer class