ABOUT THIS EVENT
Event Category
Fitness & Wellness
Event Overview
You've always wanted to to take that dance class - but it's at 7pm, and you'll be at work. The only yoga on Saturday mornings is at the crack of dawn (yeah right), and Sundays you work a double. Fear not, faithful Dabblers of the second shift! This class is by one of you, for all of you-- at 1PM on a Tuesday.

In this class, Dabblers will learn Improvised Tribal Style, a modern, fusion form of bellydance. Grace, strength and flexibility will be your mantra as you pop, lock, undulate and shimmy your way into a fitter, artistically fulfilled you. Learn a vocabulary of moves that allow you to improvise routines on the fly with other dancers, or just look really rockin' at the club.

No experience required, and there is no size minimum or maximum-- it doesn't matter if you have no hips at all or enough to share ... and you don't have to show your belly. Just bring a body (clothed in fitted, moveable work-out / yoga gear) and some 'tude, and get ready to shake what your momma gave ya!



Cancellation Policy
There are currently no upcoming dates scheduled for this Dabble. Log in to an account message the host or add to your bucket list to be automatically notified when new dates are posted.
MORE ABOUT YOUR HOST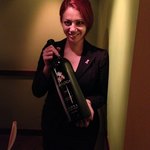 TOP RATED
TC has been doing ensemble improvised everything for as long as she can remember. From improv comedy to musician's jams, she loves nothing more than making collaborative art with other performers. She has performed around Chicago, at the Bristol Renaissance Faire, and in Las Vegas as an ensemble dancer, musician and actor - almost always in improv format. In bellydance, she learned Improvised Tribal Style from Eliza of Jezebelly, as well as having had the good fortune to study with a star-studded lineup at the annual Tribal Massive festival in Las Vegas. She performs around Chicago with her troupe, Tandava, and highly recommends Arabesque Chicago for all your evening-based bellydance class needs.