ABOUT THIS EVENT
Event Category
Food & Drink
Event Overview
Summertime, and the living is boozy. Limes are jumpin', and the mint leaves are hiiiiiiigh...

Mojitos. They're the sacred beverage of Latin nightclubs, sun-drenched patios, and your summer barbecues. Well... they would be the sacred beverage of your summer barbecues if you could just get one to come out right. The last time you tried to use a muddler, you broke the glass. Besides, they take like twenty minutes each to make and you have like thirty guests coming, so you're about to say "screw it" and bust out the tub of PBR.

Never fear! In this class, Dabblers will learn not only how to make a mojito, but the fundamental theory behind mojito construction that will allow them to invent mojito-style fruit and herb based cocktails with not just rum, but every liquor imaginable: gin, tequila, even whiskey! This class will feature four mojito-style cocktails, latin snacks and a taco bar with all the fixins. Please DO NOT drive to this class - but take the train or a cab over hungry, thirsty, and ready to get your muddle on.
Cancellation Policy
There are currently no upcoming dates scheduled for this Dabble. Log in to an account message the host or add to your bucket list to be automatically notified when new dates are posted.
MORE ABOUT YOUR HOST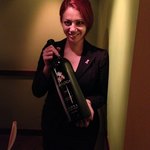 TOP RATED
TC Safavi is a CMS certified sommelier and teacher of the top-rated Wine Tasting Like A Pro. In this class, she will be featuring guest expert, Jeffrey Mull, a classic cocktail bartender straight from the foodie trenches of San Francisco and Mexico City.