Learn Scripted Hand-Lettering and Make Your Own Personal Letterpress Stationery

TOP RATED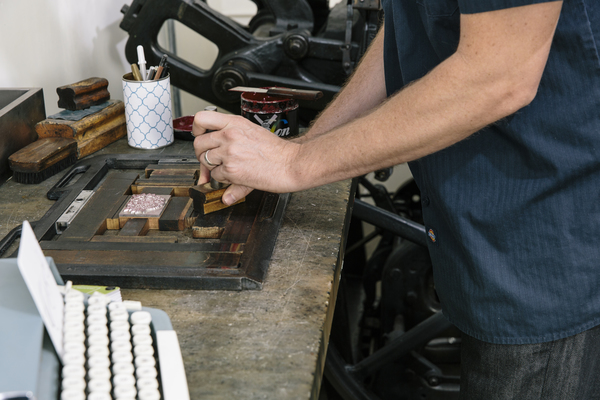 ABOUT THIS EVENT
Event Category
Arts & DIY
Note: This is a multi-session event series. By purchasing the event package, you agree to sign up for all event dates included below.
Event Overview
This hands-on class is two parts. (1) Learn Copperplate Calligraphy in a small intimate group taught by Evette Goldstein. (2) With your own scripted hand-lettering complete we will schedule one on one time to print your stationery on a 1930s letterpress with David and Julie. Both sessions are at Idea Chíc in Glendale (Denver), CO. Read on for details. 
(1) Copperplate Calligraphy is generally known as the style of writing found on the Declaration of Independence, but it is much more than that. Copperplate writing refers to a 'scripted hand' ~ generally with flourishes ~ and has transcended the ages to now include some 'fun, funky, and upbeat' styles of script. In this class you will learn how to use the specialty pen(s) to achieve this type of writing ~ both classic and contemporary.
(2) We take your final hand-lettered draft and make a printing plate used to print your own letterpress stationery. We schedule a future date where you will learn the entire process of letterpress printing from setting the printing plate in what is called a ´chase´, inking the press, and the registration process. When you complete each of these steps with your own hands we take over and print 50 cards 4.25" x 5.5" that are yours to use.
Each student will receive the following…


Copperplate Nib


Oblique Nib holder (Left handed students may opt for a straight holder)


Small bottle of Super Black Ink


Instruction sheets


Selection of additional fonts


Parchment & Art Paper


Handmade letterpress notebook


1 lint free cloth


50 stationery cards sized 4.25" x 5.5" and envelopes


The calligraphy class will include coffee and light snacks. Everything above is included in the cost. 
What's Provided
Copperplate NibOblique Nib holder (Left handed students may opt for a straight holder)Small bottle of Super Black InkInstruction sheetsSelection of additional fontsParchment & Art PaperHandmade letterpress notebook1 lint free cloth
What You Can Expect
Learn Copperplate Calligraphy
design stationery cards
Cancellation Policy
MORE ABOUT YOUR HOST

TOP RATED
We are David and Julie Sandusky, founders of Idea Chíc in Glendale, CO since 2009. We design and make everything in-house. The full process of working with 'Hazel', our 1930's letterpress, is truly remarkable. We have many stories to tell and love to help others learn the art of letterpress and printmaking.