Prepare for Doomsday! Learn Basic Hand Sewing Skills!
$20

Spots available: 1
Registration closes at 24 hours before event
Register for this Experience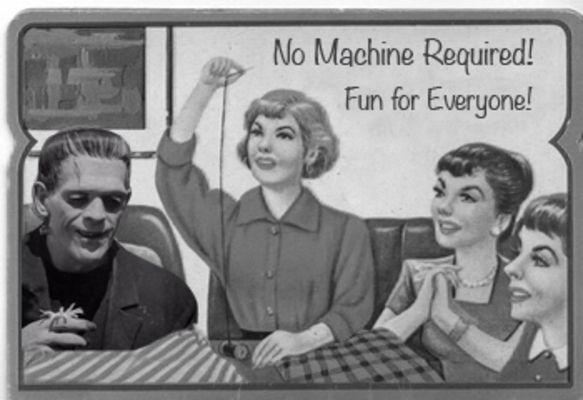 Ok, so you don't own a machine, don't WANT to own a machine, but you'd like to be able to fix some of those nagging problems that occur with clothing...buttons fall off, hems come out, a sweater gets a snag, a small hole in your favorite shirt. You know, the kind of repairs mom or grandma would have scolded you for paying the dry cleaner to do, and with poor results!

Welcome to doomsday, where we focus on giving you those basic skills in case of the zombie apocalypse (or to appease granny). You will learn how to: sew a button on properly, fix a hem that came out of your dress slacks or skirt, move a snap, hook, or button to adjust fit, and how to fix small holes/snags in sweaters and shirts. No machines used, just good old fashioned hand sewing with a needle, thread, scissors and a marking pencil.

Save yourself the cost at the dry cleaner, and learn a few self-sufficient mending skills that will amaze your friends! Or at least, make you feel good about yourself!

All materials and machines supplied, for additional questions or class options visit our website at HISSstudio.com
Join HISS Studio to help develop your sewing skills today!
| | |
| --- | --- |
| Materials to bring | A willingness to learn and have fun! Plus a pencil & paper to take notes! |
| What will be provided | All materials supplied for this class |
| Location | |
Melissa S.

Prepare for Doomsday! Learn Basic Hand Sewing Skills!

We went over very basic things but they were very helpful. There was a nice presentation and some hands-on practice.
HISS Studio
With over 30 years sewing experience and many many sewing "experiments" gone good and bad, it was time to share some of these findings with others who enjoy sewing and making garments and home decor items. We truly believe anyone that wants to learn to sew will be able to make quality items with the proper skills offered to them...We don't just teach sewing, we build confidence and skills at HISS Studio!