ABOUT THIS EVENT
Event Category
Food & Drink
Event Overview
Italy's flavors are as unique as its regions, each with their own blend of ingredients and flavors, always made with passion and reverence for tradition. We invite you to join us for our Cucina Regionale series, where we take you through a journey of regional Italian cuisine, Sunday supper-style! Our chef will prepare a sit-down, family-style dinner with regional wine pairings selected by one of our wine experts. Spend your Sunday evening enjoying all the flavors of a traditional, Italian supper, without any of the work!
In this dinner, we will take a journey to Italy's northeastern-most region, Friuli-Venezia Giulia, a unique area due to its direct neighbors, Slovenia and Austria. To the south, it borders the Adriatic Sea. Friuli-Venezia Giulia is also the home region of celebrity chef Lidia Bastianich, one of the partners of Eataly USA. Its mountainous terrain coupled with its low temperatures make for some of the best comfort food Italy has to offer, including frico (a potato and cheese crisp), montasio cheese, ofelle (a stuffed pasta), and polenta with stewed meats. Not to mention Friuli-Venezia Giulia is especially known for its famous, crisp white wines!
Menu
- Boreto alla Graisana (Turbot Chowder)
- Frico (Potato and Cheese Pancake)
- Orzotto (Risotto Made with Barley)
- Granchio alla Triestina (Trieste-Style Baked Crab)
- Gubana (Friulian Fruit & Nut Cake)
Wine
- 3 wine pairings, to be determined
Minimum age
All ages welcome
Cancellation Policy
Location
MORE ABOUT YOUR HOST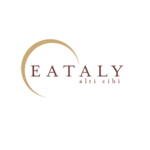 EATALY Manifesto
1. WE'RE IN LOVE WITH FOOD.
We love high-quality food and drink. We love the stories about it, the people who produce it, and the places it comes from.
2. FOOD UNITES US ALL.
Good food brings all of us together and helps us find a common point of view.
We believe that one of the greatest sources of joy is what happens around the dinner table.
3. OUR PASSION HAS BECOME OUR JOB.
We've dedicated our daily lives to promoting a real understanding of high-quality food and drink. How lucky are we that we get to do what we love?
4. THE SECRET TO QUALITY OF LIFE? QUALITY PRODUCTS.
By creating and offering the best products, we improve our own lives and bring added value to yours.
Enter a world dedicated to quality: that means quality food, quality drink, and ultimately, quality time.
5. OUR TARGET AUDIENCE IS EVERYONE.
Whether you're here to buy a loaf of bread, prepare for a lavish dinner, or sit down to enjoy a meal, we want this to be your place. We want you to be comfortable, happy, and enriched by every visit.
6. EAT. SHOP. LEARN.
This is a store with stories. Here, you won't just discover what you love: you'll also learn about what you love.
7. WE'RE IN THIS TOGETHER.
What you choose every day determines what we'll stock on our shelves over time. When you demand quality products, you support the local farmers, fishermen, butchers, bakers, and cheesemakers who produce them. You create a better environment—for eating and beyond.
8. OUR THREE PROMISES TO YOU:
* Choice: We offer a diverse selection of quality food and drink.
* Accessibility: We are dedicated to offering the best products at the lowest possible price points.
* Knowledge: We feel that it's not just important that we know everything about what we sell and serve but that you also learn about the products we are so passionate about. We share with you the stories of the people and places behind all that we offer. The more you know, the more you enjoy.
9. YOUR TRUST IS EARNED EVERY DAY.
In all ways, we promise to be scrupulously honest. We'll never encourage you to buy more than you need or spend more than you can afford.
10. THE END GOAL.
Our goal is to have you as our customer for a lifetime. The easiest means to that end is to offer the best food and drink, as well as the best environment in which to discover and expand your tastes.
On that note, we look forward to seeing you again very soon!